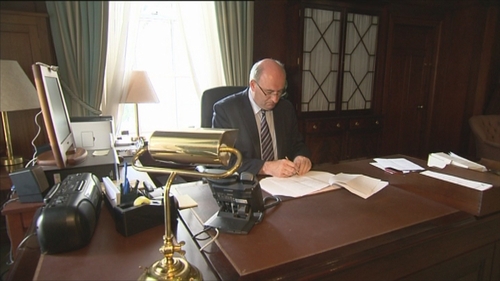 European Commission President Ursula von der Leyen must now find a replacement for Hogan, who was in charge of resolving a trade dispute with the US and establishing an investment deal with China.
Attention now turns to who will take his place and whether the Irish Government can put forward a candidate capable of retaining the trade portfolio - one of the most important roles in the commission.
Her spokesman said she wanted a replacement "rapidly".
Commission President Ursula von der Leyen had asked Hogan for an explanation of his behaviour in Ireland and had been looking into his response since Tuesday.
"We might make it easier for the president because she may not want to start juggling around all the other commissioners and having a mini reshuffle at this stage", he said.
He refused to be drawn on specific names, even as rumours swirled linking past prime ministers, current cabinet ministers and European parliamentary officials to the job.
"It's fair to say that our shared objective, that a person of very high calibre will be nominated by the Irish government".
This suggests Ireland may not retain the trade portfolio.
Among those touted in the Irish media as potential successors are former prime minister Leo Varadkar, Foreign Minister Simon Coveney and Finance Minister Paschal Donohoe.
They were seen as figures who would not destabilise the coalition by prompting an unwelcome by-election.
Minister for Foreign Affairs Simon Coveney and former European Union ambassador to the US David O'Sullivan are among the names being mentioned for the job.
All three are members of Hogan and Varadkar's Fine Gael party.
The commission, whose leadership team is made up of one appointee from each EU nation, proposes and enforces European laws, monitors national economies, negotiates trade deals, runs a diplomatic service and administers the bloc's 150 billion-euro ($177 billion) annual budget.
But earlier on Wednesday Martin said the government felt anger and annoyance at "the degree to which the commissioner has undermined public confidence in adherence to the health guidelines".
Hogan resigned after becoming embroiled in controversy over whether he flouted COVID-19 restrictions on a recent trip home to Ireland.
He sparked outrage after attending a golf society dinner in his native Ireland last week that breached social distancing rules.
He has previously served as Ireland's commissioner for agricultural and rural development and has sat in both Ireland's Houses of Parliament.
It is being investigated by police under legislation limiting gatherings to 50 and has prompted a series of high-level resignations, including agriculture minister Dara Calleary and deputy Senate chair Jerry Buttimer.
Hogan did not initially apologize for his attendance, while details about his movements through Ireland have only slowly trickled out - including a journey through a county in lockdown.
Embarrassment was compounded when it was revealed he was pulled over by an Irish police officer for using his phone while driving.