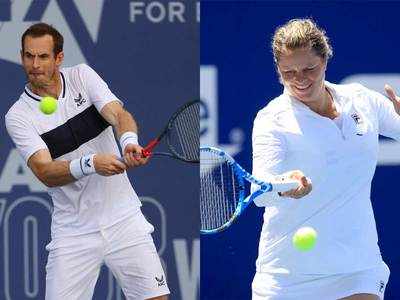 Three-time US Open champion Clijsters came out of a seven-year retirement earlier this year.
Taking another step toward actually hosting the 2020 U.S. Open, the USTA announced wild cards for the second Grand Slam of the year on Thursday.
Murray, 33, is continuing to build up his fitness after struggling with pelvic and shin injuries this year.
Clijsters, 37, won the U.S. Open in 2005, 2009 and 2010 - three of her four Grand Slam titles. Headline the men's recipients is Andy Murray, who is set for his first major appearance since the 2019 Australian Open.
"While I'm feeling relatively decent-obviously there is a risk there-I want to try and play in [the Western & Southern Open and U.S. Open] and enjoy the biggest events again".
The total prize money for the 2020 US Open will be $53.4 million, which is approximately 95% of the record prize money that was distributed for the 2019 US Open event.
Seven American men and women also received wildcards.
"We're proud to be able to offer a player compensation package that maintains almost 95 per cent of the prize pool from 2019", said USTA Chief Executive Officer and Executive Director Mike Dowse.
The funds will be allocated equally between the Women's Tennis Association (WTA) and Association of Tennis Professionals (ATP) tours, with each organisation determining how they will be distributed to players, the USTA said in a statement.
The US Open, meanwhile, has slashed its prize money for the singles title victor for the 2020 edition of the tournament by $850,000.
Some of the top players have made a decision to skip the tournament, including men's World No. 2 Rafael Nadal, of Spain, Australian Ash Barty and Nck Kyrgios and Russian Anastasia Pavlyuchenkova.
The U.S. Open is scheduled to be played August 31-September 13.