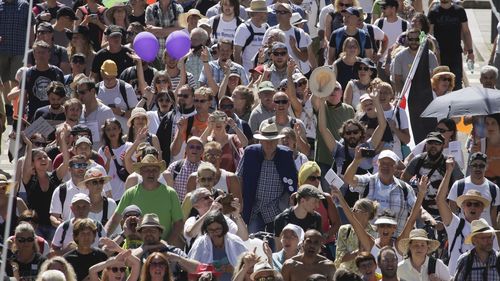 We will use your email address only for sending you newsletters.
Victoria's opposition leader Michael O'Brien has lashed the state's new restrictions, declaring "Victorians don't deserve this".
Federal Treasurer Josh Frydenberg has warned Victoria's six-week lockdown will be "felt beyond" the state's borders.
- A state of disaster was declared in Australia's Victoria on Sunday with a nightly curfew imposed for its capital Melbourne as a part of its harshest restrictions on movement to date.
Queensland reported one new coronavirus case, a young consular staff member returned from overseas.
It comes as Victoria has recorded 671 new coronavirus cases, and seven deaths overnight Saturday.
"I think everyone can see how serious this is", Professor Sutton said yesterday, observing that "fatigue" has led Victorians to get complacent about safety measures like social distancing.
- The curfew- from 8:00 PM until 5:00 AM- bars Melbourne's almost 5 million population from leaving their houses except to receive or give care or for work. Record numbers of new infections of the virus that causes the disease were reported last week, prompting warnings of further restrictions.
In terms of both shared custody and intimate partners, Andrews confirmed that "things like 5 kilometre rules and reasons to leave your home, they don't apply in those circumstances".
The new restrictions will last until at least 13 September.
"You will not be able to be at any point more than 5km away from your home for the purposes of shopping for what you need", the premier said.
Regional Victoria will move to stage three restrictions meaning you must stay at home unless leaving your house for one of four reasons - shopping for food and supplies, care and caregiving, exercise, and study and work, if you can't do it from home.
"I've had the job of leading this state for nearly six years - more than 2,000 days", Andrews said. "But it is not working fast enough". "We have to clamp down on this", he added. "Either who they got it from or where or how", Premier Andrews said.
A special meeting of the nation's medical officers informed Prime Minister Scott Morrison and senior members of government that it backed Victoria's decisions.
"The time [between now and Wednesday] will be important to businesses who will need to move to a home delivery or takeaway only model", Andrews said.
The announcement caps an intensely hard year for the state; Victoria last used its state of disaster distinction when bushfires were tearing through much of the region at the turn of the year.
Andrews said further restrictions were needed to act as a "circuit breaker" to curb community transmission, as he acknowledged tougher restriction would take an economic toll.