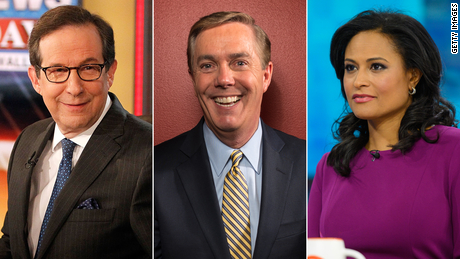 The bipartisan commission on presidential debates announced the moderators in a release Wednesday.
However, the selection of debate moderators did not impress President Trump's campaign team, to say the least.
In a recent interview, Mr Wallace joked with the president about his "mean tweets" attacking the anchor as a "Mike Wallace wannabe" who will never be like his father.
Chris Wallace, the anchor of "Fox News Sunday", will moderate the first presidential debate between President Trump and former Vice President Joe Biden on September 29 in Cleveland.
C-SPAN political editor Steve Scully will moderate the second debate, a town hall-style event, in Miami on October 15 and NBC anchor Kristen Welker the third and final debate in Nashville on October 22.
Page will moderate the vice presidential debate between Mike Pence and Kamala Harris on October 7.
Four moderaters are set for the 2020 presidential debates.
The announcement follows the Trump campaign's August 31 letter requesting a "formal, detailed plan for in-person debates in the event that location hosts withdraw because of the coronavirus or other reasons".
Scully will be in the chair for the second presidential debate on October 15.
Trump campaign communications director Tim Murtaugh said in a statement sent to The Epoch Times: "These are not the moderators we would have recommended if the campaign had been allowed to have any input". This debate format will be more like a "town meeting", according to the commission and agreed to by both parties.
At this time, all four debates are scheduled for 90 minutes. "Presidential debates are too vital to the dissemination of information to voters to leave their very existence subject to the whims of political consultants pulling Joe Biden's strings".
In a letter to the commission, Rudy Giuliani, a personal attorney for Trump, also included a list of journalists and commentators that Trump would like to moderate the debates.
The vice presidential debate will be divided into nine segments of approximately 10 minutes each.