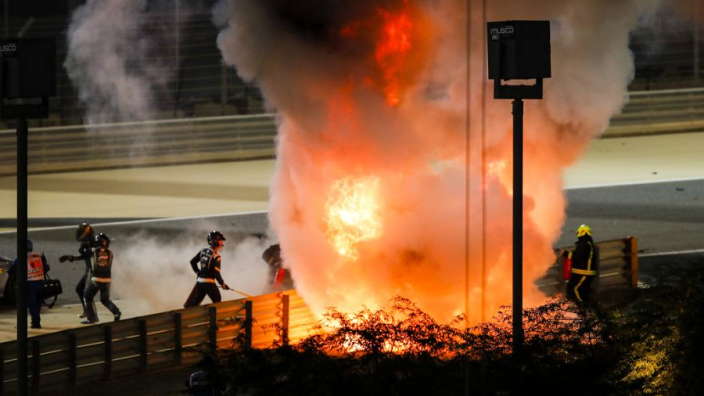 Grosjean's Haas vehicle was ripped in half and engulfed in flames after striking the barriers at high speed on the opening lap of Sunday's race, which was immediately suspended.
Romain Grosjean's vehicle violently hit a barrier, split in half and erupted in flames during the first lap of Formula One's Bahrain Grand Prix on Sunday.
Grosjean will remain in hospital overnight to undergo treatment for the burns on the back of his hands, as well as being subject to further observation from the doctors.
Jules Bianchi suffered serious head injuries in a crash at the Japanese Grand Prix in October 2014, succumbing to them in July the following year.
The Frenchman veered off the track after just three corners, hitting the barriers with an impact registering at 53G (53 times the force of gravity). Kvyat told Sky Sports that he was initially "angry" at Grosjean for turning into him, but his "mind changed immediately" when he saw Grosjean's vehicle smash through the barriers, break in half and explode.
Perez looked set to finish third and clinch his 10th career podium, but his engine blew with three laps left and flames poured from the back of his vehicle as he pulled over to the side.
A spokesperson for Grosjean's Haas team said: "Romain has minor burns on his hands and ankles but otherwise he is OK".
"I think it shows the awesome job that Formula One and the FIA have done over time to be able to walk away from that".
Grosjean was quickly extricated by the crew following in the Medical Car and limped gingerly to an ambulance, where he was transported to the Medical Centre. He was flown to the Bahrain Defence Force Hospital where he is now being evaluated.
The French driver, 34, who looks set to leave F1 at the end of the year, was immediately taken to the circuit medical centre.
"Without just one of those things working, it could have been a very different outcome".
The Haas F1 racer posted a video message of him from his hospital bed on Sunday night where he discussed how lucky he is to have had the additional cockpit head protection system that was controversially introduced in 2018. The contact speared Grosjean into the ArmCo barrier with the front of his Haas penetrating the metal surface and ripping through it, with a tyre sent flying over it and into the in-field. Drivers Tadasuke Makino, Charles Leclerc and Alex Peroni have all credited the halo for possibly saving their lives in separate crashes.
Responding to the same question, seven-time world champion Lewis Hamilton, who praised the FIA's work on safety for enabling Grosjean to survive his horrific accident, replied: "We're not the safety regulators".
A F1 Twitter statement on Friday afternoon read: 'We are so thankful that Romain Grosjean was able to walk away from this.