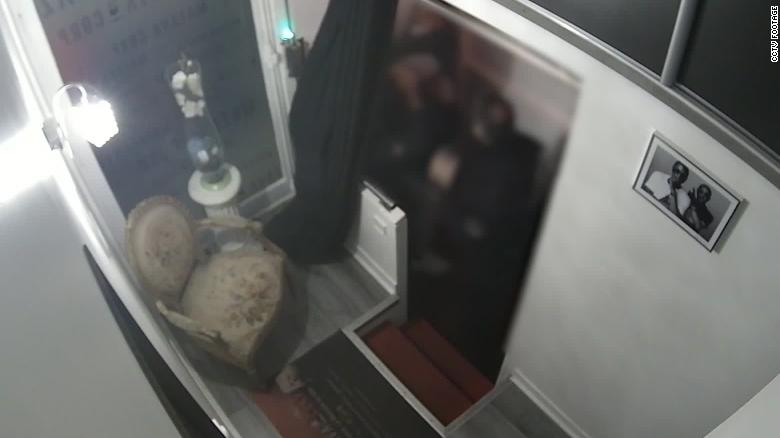 Police in France fired tear gas shells at protesters who were demonstrating against police violence in Paris.
The incident has also fanned anger about a draft law that is seen as curbing journalists' right to report on police brutality.
Tens of thousands protested across France on Saturday against the security bill - which would restrict the right of the press to publish the faces of on-duty police - with the rally in Paris ending in bitter clashes.
The three officers suspected of carrying out the beating should remain in custody, he said, while a fourth, who arrived on the scene later and set off a tear gas canister, should be freed under conditions.
The journalists' organisations and civil liberty groups which organised the marches were joined by far-left militants, environmental activists and yellow-vest protesters.
The death in United States police custody of George Floyd in May and the Black Lives Matter movement have reverberated in France where allegations of brutality against police officers are commonplace, particularly in poor and ethnically diverse urban areas.
French Interior Minister Gerald Darmanin ordered the officers involved in the case suspended.
Footage that emerged of police officers racially abusing and beating a black music producer, Michel Zecler, fueled the anger at the protests. The police force has insisted violations are the fault of isolated individuals.
President Emmanuel Macron spoke out against the video images on Friday, saying "they shame us".
French Communist Party leader Fabien Roussel said the party demanded the total repeal of the law, arguing "there are no "black sheep" in the police, this is a fundamental problem".
Zecler told reporters Thursday that he was walking around without a face mask, which was against the country's COVID-19 safety measures, and hid in his studio to avoid fines when a police vehicle appeared.
An internal letter from Paris Police Prefect Didier Lallement called on officers to use "probity, the sense of honour and ethics" when policing the protests, which were authorized by authorities.
Police have also been slammed for their heavy-handed tactics in clearing a migrant camp in central Paris earlier this week.
The controversial Article 24 of the bill seeks to protect police officers from doxing and harassment, and bans filming of cops on duty and sharing their images online with the "intent to harm".
"As soon as I learned about them, and about what happened, I asked for the suspension of those police officers", he said Thursday. First protests broke out in Paris immediately after the start of debates.