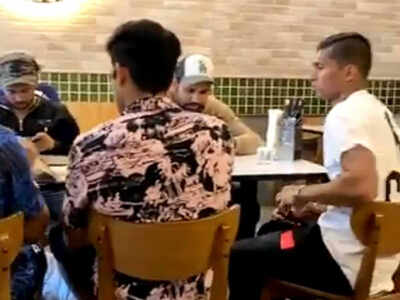 It all started after five Indian players - Rohit Sharma, Prithvi Shaw, Rishabh Pant, Shubman Gill, and Navdeep Saini - allegedly breached the bio-bubble visiting a restaurant in Melbourne.
It has been learnt that the Indian Cricket board will back its players as the general consensus is that there hasn't been any deliberate breach.
"The BCCI and CA are investigating the matter and seeking to determine whether the outing constitutes a breach of biosecurity protocols", Cricket Australia said in a statement.
Hockley said the Indian cricket board (BCCI) was "fully across (and) supportive" of quarantine requirements in Queensland.
"In the interim, on the advice of the Australian and Indian medical teams, the aforementioned players have been placed in isolation as a precaution".
The BCCI made no comment on the investigation into the five Indian cricketers.
According to the strict biosecurity protocols set by CA, players are allowed to sit outside but not allowed to dine inside restaurants. Cricket Australia and we have cooperated at every step with regards to following the protocols within the bubble.
Before the crucial third Test against Australia, Team India has been facing the scrutiny from the Australian media.
While there now is a significant cloud over the series finale at the Gabba - where Australia have not lost a Test since 1988 - SCG officials have said ground staff can prepare pitches for two Tests to be played in close succession at the venue. However, the members of the Queensland government have added to the drama as they said that Team India should not enter the state if they are unwilling to coordinate with the protocols that have been laid out. Despite the pandemic and a strict bio-security bubble in place, the players have been granted some liberties like being able to eat outside at venues and leave hotels.
With Rohit's inclusion in the Test squad and after an epic turnaround in the Boxing Day Test, the visitors are riding high on confidence. "But I can't see India not getting their way, to be honest with you", Andrew Symonds told Fox Cricket.