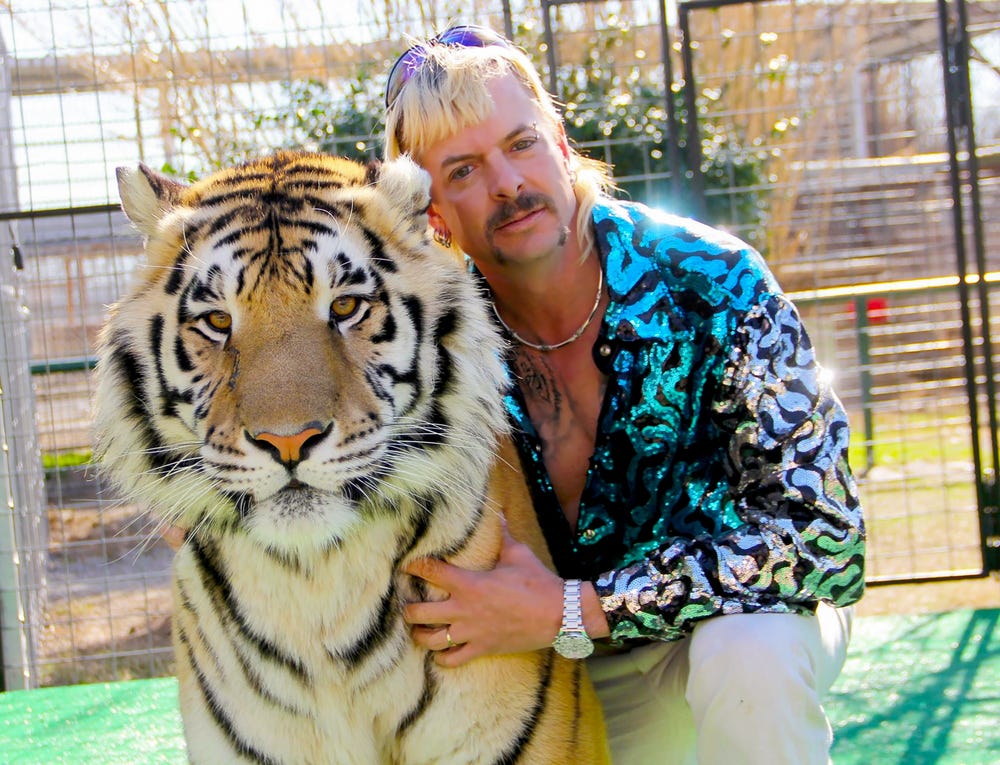 In the tale of two narcissists, Tiger King's Joe Exotic is reportedly expecting a presidential pardon from Donald Trump before Joe Biden is inaugurated as the next president of the USA tomorrow (Janunary 20).
In response to the potential pardon, Carole Baskin told Insider: "Tigers are the world's favorite animal and Joe Schreibvogel Maldonado Passage is right where he belongs".
"I've got make-up, wardrobe, the whole unit that will come up".
Eric Love, a member of Exotic's legal team, told The Sun they are so confident in the Tiger King star being pardoned that they have booked a limo and have planned several days of luxury and relaxation for him once he is released.
Maldonado-Passage is serving a 22-year sentence in a Fort Worth, Texas, federal prison for his conviction on charges that he participated in a murder-for-hire plot and violated federal wildlife laws.
"We have good reason to believe it will come through", Love told Metro.co.uk "We're confident enough we already have a limousine parked about half a mile from the prison".
"Last night, I shot a congratulatory video thanking Donald Trump so we have it queued up and ready to go".
"We are 100% sure that today is our day", Mr Love said. He hasn't had his hair done in 2 1/2 years.

Exterior of the limo outside the federal prison in Fort Worth Courtesy of Eric Love
Trump is expected to leave office January 20, the day Biden is slated to be sworn in as the 46th president.
Mr Love said granting clemency to Exotic, who was apprehended in 2018, would take away from President-elect Joe Biden's limelight.
As of Wednesday morning, there has been no official confirmation from the White House as to whether Joe Exotic or Lil Wayne will be pardoned by President Trump.
"As soon as we get the word, we're going to execute that video to the White House and thank them".
The speculation over Exotic being pardoned comes as CNN reports President Trump will pardon up to 100 people in the final hours of his administration.
Bloomberg reported that the rappers Lil Wayne - who faces prison time for a weapons charge - and Kodak Black - who is serving an nearly four-year sentence after pleading guilty to weapons charges - were also being considered for pardons.
It's reported that rapper Lil Wayne - who was arrested on firearms charges and faces up to 10 years in prison - might also get one. He tweeted a picture of himself with the president and said he supported Trump's work on criminal reform.