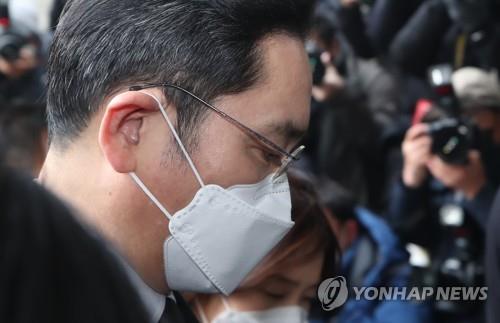 Samsung Electronics Vice Chairman Lee Jae-yong has been sentenced to two-and-a-half years in prison in a retrial of a bribery case involving former President Park Geun-hye.
Samsung Electronics heir Jay Y. Lee was sentenced to two years and six months in prison over bribery charges, concluding a years-long graft trial that inflamed outrage over the cozy relationships between government and business.
Lee's lawyers had portrayed him as a victim of presidential power abuse and described the 2015 deal as part of "normal business activity". He was taken into custody following the verdict. He didn't answer questions by reporters upon his arrival at the court.
"The essence of the case is an abuse of power by the former president which hurt a corporation's freedom and property rights", said Lee In-je, an attorney for Lee.
He didn't specifically say whether there would be an appeal.
Jan 9: Samsung Group sets up an anti-corruption panel headed by a former supreme court judge to improve compliance and prevent violation of governance rules.
The court said the bribe was provided with the unspoken understanding that the National Pension Service would help smooth Lee's succession process by backing the merger of Cheil Industries and Samsung C&T, two affiliates of the group.
In September a year ago, prosecutors separately indicted Lee on charges of stock price manipulation, breach of trust and auditing violations related to the 2015 merger.
The Trump administration's sanctions against China's Huawei Technologies have meanwhile hindered one of Samsung's biggest rivals in smartphones, smartphone chips and telecommunications equipment.
Lee, 52, was convicted of bribing an associate of former President Park Geun-hye and jailed in 2017, but the sentence was reduced and suspended on appeal.
The Seoul High Court, which took over the case, began Lee's retrial in October 2019 and suggested Samsung create an internal compliance committee, saying this would be taken into account at sentencing.
The ruling meant that Park, who also has a separate conviction for illegally meddling in her party's candidate nominations ahead of 2016 parliamentary elections, could potentially serve 22 years behind bars until 2039, when she would be 87.
In 2017, he was sentenced to five years in prison for providing a total of 8.9 billion won in support for Choi's daughter's equestrian training and a donation to a sports foundation run by Choi's family.