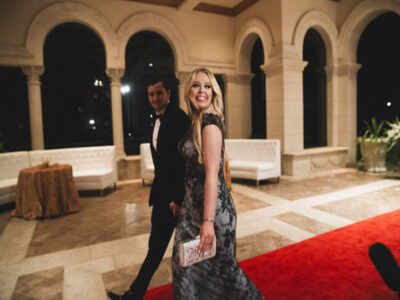 "Feeling blessed and excited for the next chapter!"
Tiffany broke the news in an Instagram post on Tuesday alongside a loved-up photo of the pair.
Boulos posted the same photo, writing: "Got engaged to the love of my life!"
Tiffany appears to have first posted a photo with Boulos on Instagram in January 2019. (Mandel Ngan/AFP via Getty Images) The U.S. president's children Eric Trump, Tiffany Trump and her fiancé Michael Boulos arrive for the U.S. president's acceptance speech for the Republican Party nomination for reelection during the final day of the Republican National Convention from the South Lawn of the White House in Washington on August 27, 2020. "Looking forward to our next chapter together ❤️".
Tiffany is President Donald Trump's youngest daughter and his only child with his second wife Marla Maples.
"She is actively looking for a house in Miami Beach", one local source told People, noting that Tiffany "has been in Miami Beach for five or six days". She recently graduated from Georgetown Law School.
If you've also been wondering who Michael Boulos is, here is what we know about him.
According to Wikipedia, Michael, of Lebanese and French descent, grew up in Lagos, Nigeria.
Massad, his father, is said to be the chief executive officer of SCOA Nigeria while Sarah, his mother, is the founder of the Society for the Performing Arts in Nigeria.
Michael Boulos has been a staple to Tiffany Trump's Instagram feed since 2019.
However, while Trump and members of her family expressed excitement over the news that she was going to marry Boulos, who she began to date in 2018, Twitter had some other thoughts about the news. The first family will vacate the White House on Wednesday morning shortly before the inauguration of Democrat Joe Biden as the 46th American president later tomorrow afternoon.
Tiffany and 23-year-old Michael have been dating since 2018. He is a director at SOCA Nigeria and Groupe Fadoul Afrique (Fadoul Group). Boulos was raised in Lagos, Nigeria, where his family owns a number of companies that have a combined worth of over a billion dollars.