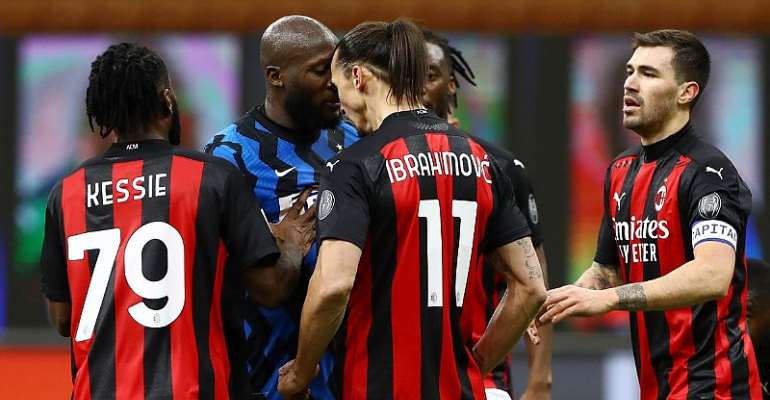 Inter Milan moved into the semifinals of the Coppa Italia with a 2-1 comeback victory over AC Milan on Tuesday, as Zlatan Ibrahimovic put the Rossoneri ahead before being sent off, while Christian Eriksen came off the bench to score the victor deep into stoppage time.
Christian Eriksen scored a last-gasp victor to send Inter into the semi-finals with a 2-1 victory after goals by both Lukaku and Ibrahimovic.
Having reportedly assured his Milan teammates after the game that no racist language was used as he traded insults with Lukaku towards the end of the first half, Ibrahimovic highlighted his commitment to fighting racism in a tweet, posted on Wednesday. "You want to speak about my mother?"
In typical fashion, the former PSG striker had to get a final dig in, even during a nice message, saying "We are all players some better than others". Lukaku was being restrained by his teammates.
Lukaku, 27, has since denied those accusations and threatened to sue Moshiri for them.
The reading of Ibrahimovic's lips suggest he refereed to Lukaku's "voodoo shit" in a clash at the end of the first half in which the players threatened each other and nearly came to blows.
But the angry exchange between Ibrahimovic and Lukaku dominated the headlines.
'Christian is a very intelligent lad, he has quality, he's part of the project and I am happy he scored that goal. Lukaku is only positive.
Things have not gone to plan for Eriksen since he left Tottenham Hotspur for Milan nearly a year ago to the day, with the Dane having started just four league games this season, leading to speculation he could return to England this January. Lukaku slammed the penalty into the top left corner.
"I learned just to focus, work hard and enjoy it as well". In the dressing room he apologised.
Speaking Tuesday night, Milan manager Stefano Pioli berated his veteran striker for the red card. 'He's the last person I'd think of as racist'.
Inter boss Antonio Conte, however, hailed his man for the way he dealt with the incident.
"I was pleased to see Romelu like this", said Conte.