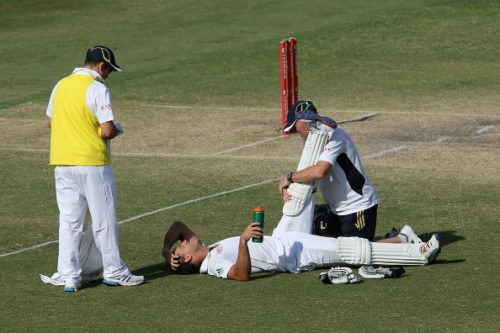 Cricket in Australia has been mired in controversy since the side were embroiled in a ball-tampering scandal in South Africa in March, with a damning report into the sport's administration leading to a slew of resignations and sackings.
Estimations of South Africa's tally were duly revised a couple of times, with the rate climbing from a humble 3.5 after 18 overs to well beyond the six mark.
What looked like it was going to be another low-scoring affair when South Africa were 3 for 55 in the 16th over, turned out into a run fest thanks to a record-breaking 252-run stand for the fourth wicket between South Africa's captain Faf du Plessis and David Miller.
Marsh restored the Australian innings in a 107-run stand with allrounder Marcus Stoinis (63) after Australia was left wobbling at 3-39 in the 11th over.
They were particularly severe off the medium pace of Marcus Stionis, who went at ten runs and over, for figures of 2-70 in his seven, while Pat Cummins also got some stick as South Africa scored a staggering 130 runs in the final ten overs. We had a big challenge for ourselves to put in a big performance and pleased that we could do it. Australia, in reply, saw Shaun Marsh lead the chase with a hundred, but eventually lost stead and slumped to 280 for 9 and conceded the series. We absorbed the good bowling and waited for an opportunity to put the pressure back on, that started happening in the 35th over.
Lungisani Ngidi and Kagiso Rabada chipped in with a wicket each before Australia could make 40 runs.
South Africa's bowlers, who more than did their bit in the first two games, were overshadowed by their batsmen for a change.
Mitchell Starc did the damage, bowling a ideal line and length, with de Kock getting a tickle on the ball and wicketkeeper Alex Carey taking the catch. The closing moments of the partnership were virtually a free-for-all, with 51 runs coming from the final 15 balls that du Plessis and Miller were together before the captain's dismissal.
But the decision was overturned on review after a lengthy deliberation between Miller and du Plessis. Du Plessis had the best seat in the house watching from the other end, and was full of praise for the smart manner in which Miller constructed his innings.
Miller made the landmark in 95 balls, including eight fours and two sixes, and was finally caught at deep midwicket off Josh Hazlewood in the last over.
Australia's chase started disastrously, losing Chris Lynn to a first-ball duck before Aaron Finch (11) and Travis Head (six) joined him.
Australia's woes were compounded when Aaron Finch soon followed him back to the pavillon.
Marsh continued on with Alex Carey (42) and reached his century off 98 deliveries.