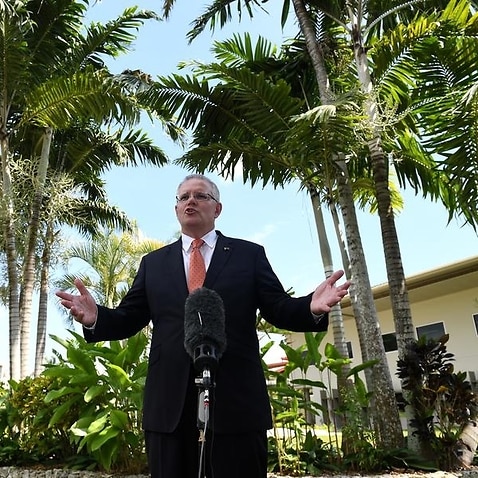 The Prime Minister of Fiji, Frank Bainimarama, has used Scott Morrison's visit to his country to slam the Australian government's attitude to climate change, pointing out that "here in Fiji, climate change is no laughing matter".
While speaking at the University of the South Pacific, Morrison highlighted that Fiji and Australia are family, they are a vuvale adding that this principle of vuvale or family is something Australia and Fiji share deeply.
In Fiji, Australia's commitments were wide-reaching, while in Vanuatu they appeared to be spontaneous.
The Australian Prime Minister also took the time to acknowledge the courageous men and women who serve alongside Australians as part of their defence forces.
In Fiji, far more deliverables were announced.
Morrison stressed the importance of the Pacific to Australia at a time China is increasing its presence in the region.
"You can see across all of these initiatives, whether it's in economy, whether it's in security, whether it's in culture, whether it's in sport, this is a broad based relationship", Mr Morrison said. Fiji will also join Australia's Pacific Medicines Testing Program.
"Every deal is better with Fiji in it".
"I pay respect in particular to Mr Bainimarama's global leadership on climate change and oceans", Morrison said.
Australian Prime Minister Scott Morrison has reiterated Prime Minister Voreqe Bainimarama's sentiment that Fiji and Australia are more than neighbors.
"From where we are sitting, we cannot imagine how the interests of any single industry can be placed above the welfare of Pacific peoples and vulnerable people in the world over", he said in a speech last night.
"It's a bit embarrassing that he had to go to Fiji to be told that he's doing nothing on climate change, when in fact millions of Australians could have told him that in Australia", Mr Shorten told reporters.
"We have made commitments in the area of climate change and we are keeping them".
"Rugby League is incredibly popular in the Pacific Islands and if we can translate that into greater grassroots participation, we know that it will lead to more active and healthier participants", Minister McKenzie said.