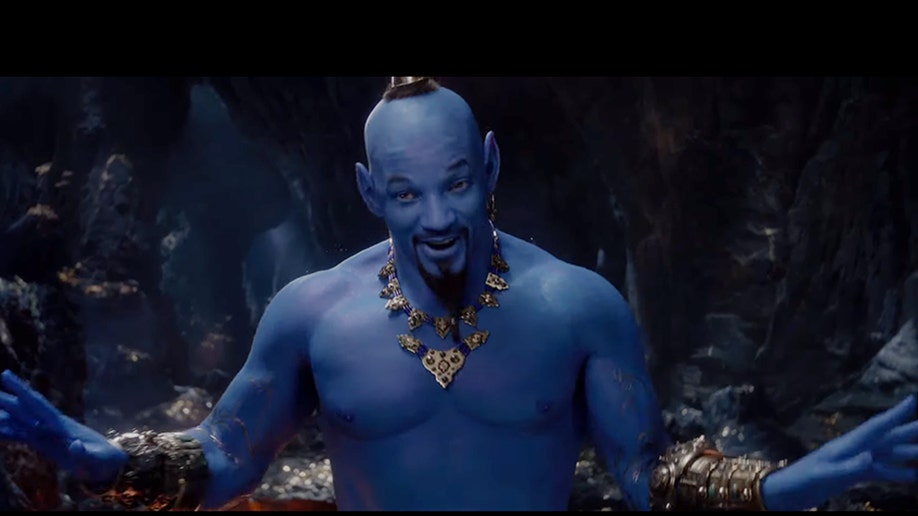 Disney is giving Aladdin fans a first look at Will Smith's Genie.
It also featured looks at Jasmine and more scenes featuring Aladdin and Agrabah. Jafar can even be seen ushering Aladdin to the Cave of the Wonders. The trailer for Aladdin aired last night during the Grammys and it seems to have lost the momentum it once had.
The new trailer debuts the character of Genie, who is portrayed by Will Smith. "Genie...wishes...lamp? None of that ringing a bell?" (Personally, while it's a bit unremarkable, I don't see anything awful in the footage.) It's important to remember that, with the film's release more than three months away, animation is likely incomplete. "That was the scariest thing in my life up until I saw Will Smith as the Genie".
Smith responded on Instagram that he would indeed be blue in the final film, "I'm gonna be BLUE!" This of course set social media on fire with negative reactions about Smith's first images as the classic Disney character voiced by the late Robin Williams.
When the first teaser for the upcoming live-action remake of Aladdin dropped back in October, Will Smith's Genie was nowhere in sight.
But let's face it: Will Smith as an all-blue Genie is all anyone wants to talk about. "There hasn't been a lot of that hip-hop flavor in Disney history".
Holy crap, that is the stuff nightmares!
Aladdin opens on May 23 in Australia and May 24 in the USA and UK.
Aladdin hits theatres on May 24 and stars Mena Massoud, Naomi Scott, and Smith. This list specifically focuses on those from the Walt Disney Animation department, so sorry Brave Little Toaster fans, of which I'm one.