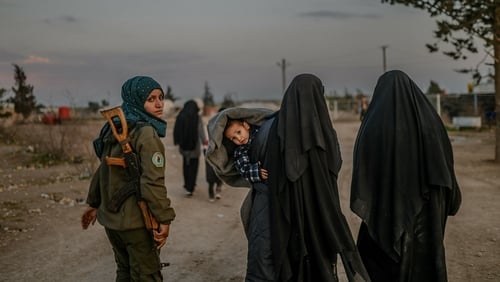 A convoy of trucks carrying hundreds of civilians left the last enclave held by Islamic State militants in eastern Syria Wednesday.
The transfer comes as the USA -backed Syrian Democratic Forces is involved in a standoff over the final sliver of land held by IS in eastern Syria, close to the Iraqi border.
Witnesses said they saw a convoy of about 10 trucks leave the Islamic State's last enclave, a patch of land covered with tents spanning no more than several hundred square meters.
But Mustafa Bali, spokesman for the SDF, said an operation by special forces enabled the evacuation.
US -backed forces are one step closer to liberating the last patch of Syrian territory held by the Islamic State terror group, but officials say reports that the remaining militants have surrendered are premature.
However, the US-led Global Coalition to Defeat IS says it can not verify reports about militants surrendering.
"There are still civilians inside" the Baghouz pocket, he added.
The Syrian Observatory for Human Rights cited its sources as saying the militants had agreed to surrender following extensive negotiations with SDF.
"Numerous families ". continue to be subjected to intensified air and ground-based strikes by the USA -led Coalition forces and their SDF allies on the ground", Bachelet said in a statement.
In a tweet, it said the SDF continue to receive civilians attempting to escape to safety and the most hardened IS fighters still remain in Baghouz.
Almost five years later, that dream has been crushed by separate military campaigns in Iraq and Syria that, though backed by foreign powers, have been fought mainly by local, mostly Muslim, forces.
The United Nations human rights chief on Tuesday accused the armed group of possible war crimes, noting some 200 families were facing intensified air and ground attacks by the US-led coalition forces and civilians were being prevented from fleeing.
Last week President Vladimir Putin said Russia, Turkey and Iran had agreed to take unspecified extra steps to clear Idlib of what he called "a hotbed of terrorists", but the Kremlin said there would be no military operation there.
The opposition's Syrian Civil Defense, a group of volunteer first responders, said one of its members was wounded.
The International Rescue Committee said on Monday that 62 people, mostly children, had died on the way to the Al-Hol camp or shortly after arriving in past weeks.
Among them are the wives and children of IS militants and many foreign nationals, including the British teenager Shamima Begum, who was 15 when she ran away from her home to join IS four years ago.
An Alabama woman who joined IS in Syria also made headlines after the US said Wednesday she won't be allowed to return with her toddler son because she is not an American citizen.
The Free Burma Rangers volunteer group said 40 people had exited the enclave on Tuesday, including a French woman with two infants.