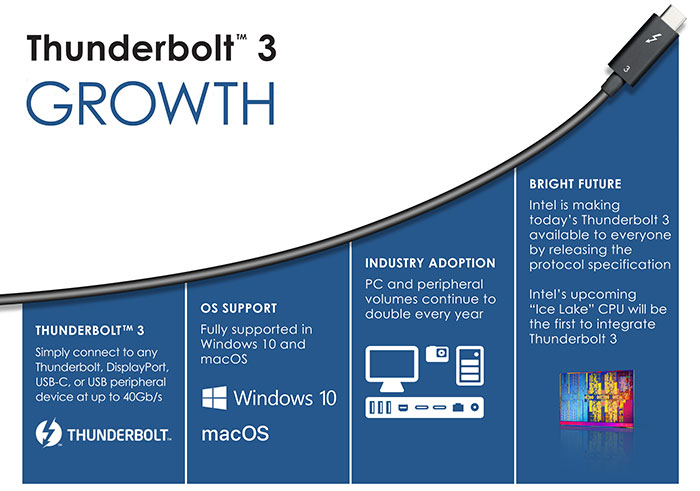 Today Thunderbolt 3 was released to the USB Promoter Group, who promptly undid the insanity that the USB-IF released upon us last week by promptly announcing it will be the basis of USB 4.
Once USB4 is official, the low cost of Thunderbolt 3 support and otherwise royalty-free nature of the spec means adoption will boom and we'll all be able to spend money on new devices that have the firmware inside.
The USB specification is perhaps the most ubiquitous of interfaces in the computing industry.
The USB4 spec isn't actually finalised as yet but it shouldn't wander too far off Thunderbolt 3 or else it would lose many attractions, as mentioned above.
This development should be especially welcome to those that use high-speed external docks. Even as the USB4 specification introduces a new underlying protocol, compatibility with existing USB 3.2, USB 2.0 and Thunderbolt 3 hosts and devices is supported; the resulting connection scales to the best mutual capability of the devices being connected.
Because Thunderbolt 3's technology is now open and royalty-free, the devices that would benefit from it will be less expensive and more likely to exist in the first place.
The USB4 specification is coming soon, and with it, we'll see a few changes that should make our connected lives simpler. This means that the simultaneous transfer of data and display protocols would theoretically be possible with a USB4 port and cable that supports Thunderbolt 3.
As for the physical connector, USB4 will be a Type-C connection, similarly to Thunderbolt 3. While the specification will be backward compatible with devices as far back as USB 2.0 (using adapters, of course), those faster transfer rates will require "40Gbps certified cables". That means 40Gbps data transfers for external storage drives, eight times the speed of the USB 3.0 interface. Thunderbolt 3 is already well supported in various OSes like Windows 10, MacOS and Linux.
Intel says that over 400 PC designs have come with Thunderbolt 3 support from the likes of HP, Dell, Lenovo, Apple, and Asus, with the number of units shipped doubling each year into the "tens of millions". Right now, there are only 463 certified Thunderbolt 3 devices on the market. Intel also hosts plugfests, during which interoperability with numerous new devices is tested, and workshops. "By collaborating with the USB Promoter Group, we're opening the doors for innovation across a wide range of devices and increasing compatibility to deliver better experiences to consumers". That's finally happening, with the technology being integrated into USB 4.
USB Developer Days 2019, in the second half of this year, will include detailed technical training covering the USB4 specification and the latest for USB Type-C, USB Power Delivery, and other exciting topics.