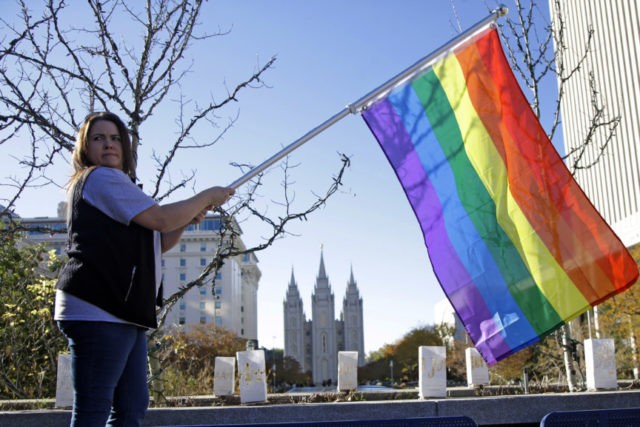 The Mormon Church had literally forced children of same-sex parents to choose between their faith and their families.
Jordan Sgro, who also grew up as a member of the church, said the changes are positive, but she wishes the church would apologize for excluding LGBTQ members.
"Previously, our Handbook characterized same-gender marriage by a member as apostasy", the church said in a statement.
Mr Oaks said the changes sought to "reduce the hate and contention so common today", but he insisted they did not represent a shift in church doctrine on marriage, chastity and morality.
According to Mormon beliefs, the ruling governors of the Mormon church, known as "The First Presidency", are vested with powers to dictate all policy changes of this nature. Why?
But some took issue with that line, as the LDS church does not recognize same-sex marriage as being the same as a heterosexual marriage, which it calls "eternal marriage".
But people in same-sex relationships will no longer be considered "apostates" who must be kicked out of the religion.
If anything, this policy change has signaled the Mormon Church's desire to work with LGBT people, and they will push for more and more concessions.
According to the release, church President Dallin H. Oaks said the changes will be effective immediately.
In 2015, the Mormon Church stipulated the children of LGBTQ couples could not be baptized at eight - instead, they would have to wait until they were 18 to undergo the rite.
In its online statement the church said it hopes the switch will help members to "show more understanding, compassion and love" and to "increase respect".
The Trevor Project, a suicide prevention and crisis intervention organization for LGBTQ young people, said it welcomes any faith group's public commitment to treating the LGBTQ community fairly and equally.
Williams, who is gay and has left the LDS church, says it's time to reevaluate. I am grateful for this revelation and for Church leaders acting upon it.
Nelson, then a member of a governing body that helps the president lead the church, defended the policy in a 2016 speech in which he said a revelation received by then-President Thomas S. Monson and other leaders gave them "spiritual confirmation" that the rules were right thing to do after many states legalized gay marriage.
Several church leaders weren't sure how to implement the old policy, said Matthew Bowman, a historian of the Mormon Church.
"This statement by the LDS Church to change course is a move in the right direction that will make a real difference in the lives of LGBTQ Mormons", The Trevor Project, an worldwide advocacy group for LGBT youth, said in a statement.