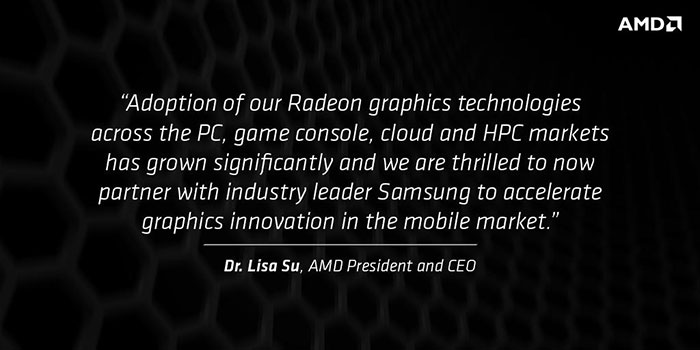 Partnering with AMD to license its Radeon graphics IP fits those agendas, and in a potentially big way. Both the PlayStation 4 and Xbox One consoles feature custom AMD processors and Google's upcoming Stadia cloud-based gaming platform is also said to be powered by AMD graphics.
AMD announced that Samsung will leverage its RDNA graphics architecture for "ultra low power, high performance mobile graphics", and the partnership is particularly significant because it marks AMD's reentry into the mobile space.
The official press release is a little light on the terms of this deal.
Samsung is said to have started work on their own "S-GPU" at its research division back around in 2012, with the company handing over the new IP to a new division called "ACL", or Advanced Computing Lab in San Jose, which has a joint charter with SARC (Samsung Austin R&D Center, where Samsung now designs its custom mobile CPU & memory controller IP). In this instance, however, AMD will exclusively be customizing the Radeon IP for use in the mobile form factor, and the manufacture will be taken care of by Samsung LSI. Rather than doing battle with the likes of Intel and Nvidia in this segment, AMD's graphics IP will be faced with entrenched competition from the likes of Arm and PowerVR. The idea of a phone with the horsepower of a home game console has always been an exciting prospect, and now Samsung is partnering up with hardware manufacturer AMD to (hopefully) make it happen.
Specifically, AMD will license out its newly announced and "highly-scalable" RDNA graphics architecture to Samsung for use in its mobile devices. Being picked by the world's top smartphone vendor is no small feat. Lisa Su said: "this strategic partnership will extend the reach of our high-performance Radeon graphics into the mobile market, significantly expanding the Radeon user base and development ecosystem". Samsung will be using the licensed technology in mobile devices such as smartphones and other products.
We probably won't see the results of this partnership on the market for a couple years.