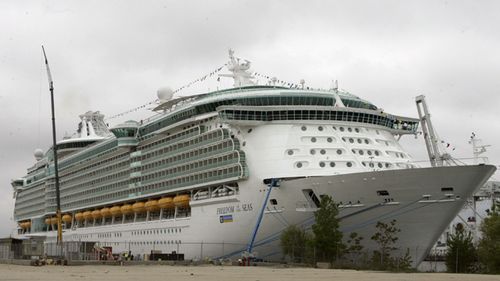 The grandfather of a toddler who died after falling 11 stories from a cruise ship window in Puerto Rico has been charged in her death.
A judge ordered the arrest of Salvatore Anello, from IN in the U.S., after prosecutors submitted evidence and said the two-year-old girl fell from the ship docked IN Puerto Rico when he raised her up to an open window, he thought was closed, and she fell 45 metres to her death.
Chloe's parents, Alan and Kimberly, from IN, said they don't believe Anello should be blamed for her death, and the family is now seemingly holding Royal Caribbean responsible for her death.
Anello is due to appear in court on November 20.
Chloe's parents, from Indiana, US, have remained supportive of Anello throughout, claiming he allegedly lifted Chloe up because she liked to bang on glass.
Freedom of the Seas was ending a seven-day southern Caribbean cruise of Antigua, St Lucia and Barbados at the time of the girl's death.
"They find it unnecessary and unfair, and it's really pouring salt on the open wounds of this grieving family", he said, according to CBS News.
So, the family alleged, when Chloe threw herself against what Anello thought was glass, her continued momentum pulled her from her grandfather's grasp.
"There's no doubt this was an accident", Winkleman said.
Wiegand's mother Kimberly previously told NBC's "Today" that "I never want another mother to have to experience this or to see what I had to see or to scream how I had to scream". "The thing that he has repeatedly told us is, 'I believed that there was glass, '" Kimberly said. "She was his best friend". "I know my mom was asking people, 'Why on earth is there a window open on the 11th floor without a screen or anything?'" said Wiegand, of South Bend, Indiana.
"I just kept saying, 'Take me to my baby".
Winkleman said: "I think Royal Caribbean needs to answer these questions: Why would you ever in a kid's play area put windows that passengers can open?"
Alan said that Anello was "very distraught", to the point where you could "barely look at him without him crying".