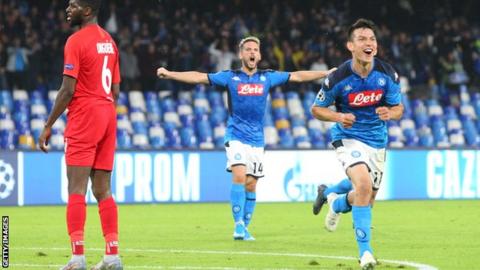 Napoli president Aurelio De Laurentiis held a lengthy conference call with Ancelotti on Wednesday, with Gazzetta dello Sport reporting that De Laurentiis is exploring the possibility of sacking Ancelotti.
But as Ancelotti disagreed with the lockdown, the players all returned home after a 1-1 draw against Salzburg on Tuesday which stalled their bid to reach the Champions League last 16.
"It is noted that, responsibility for the first team players undertaking the days in ritiro was afforded to first manager Carlo Ancelotti".
Napoli have released a statement saying they hold Ancelotti exclusively responsible for that decision and that legal action will be taken against their players.
"With reference to the behaviour of the players yesterday (Tuesday), it (the club) will proceed to protect its rights on an economic, capital, image and disciplinary levels in every competent jurisdiction", the statement added. A "media silence" was also imposed.
De Laurentiis said it was for the team to get to know each other better rather than a punishment.
Carlo Ancelotti, while agreeing to De Laurentiis' orders, openly stated he disagreed with De Laurentiis' actions.
Napoli are still on course to qualify for the Champions League knockout rounds as they are second in Group E behind Liverpool, four points ahead of Salzburg, with two games to play.
Napoli, who finished runners-up to Juventus last season in Ancelotti's first campaign at the helm, are seventh in Serie A.
Ancelotti refused to carry out his media duties after the match.
Napoli released a club statement on their official website essentially confirming they will be taking legal action against members of their playing squad, while they will be holding Ancelotti exclusively responsible for the decision not to head to the training retreat. Articles appear on euronews.com for a limited time.