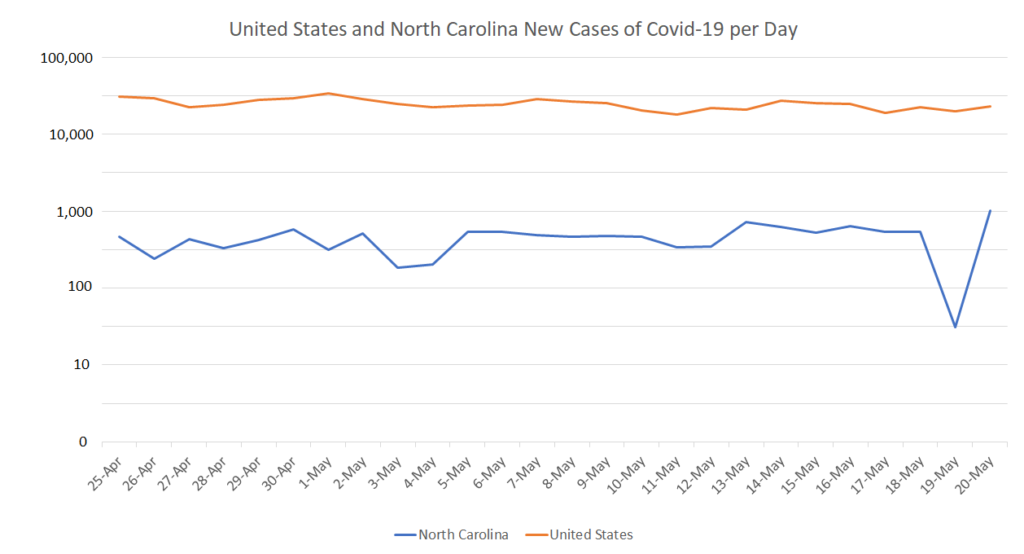 Cooper said he is hopeful to move forward into Phase II this Friday, reopening the economy (to an extent) just in time for Memorial Day Weekend. WFAE's Lisa Worf and health reporter Claire Donnelly break it down.
The Safer At Home Phase 2 runs through at least Friday, June 26.
CLAIRE DONNELLY:Cooper is calling this modified Phase 2 plan "safer at home".
Phase II would be a significant change in the way life is conducted in the state as restaurants and bars would be permitted to reopen and the "stay-home" order would be lifted.
Retail stores that were allowed to open in phase one at 50% capacity will continue at that level. Hair and nail salons and barbershops can open but also need to limit their customers.
No more than 10 people gatherings indoors are allowed and no more than 25 people outdoors is a guideline in Phase Two. Pools can also reopen at 50% capacity.
The governor did not open fitness centers, health clubs, yoga, martial arts, dance studios, trampoline facilities, gyms, bars, nightclubs, playgrounds, bowling alleys, movie theaters, skating rinks, reception facilities, museums and amusement parks. That's different from the Phase 2 Cooper proposed in April.
Cooper said he would not appeal the judge's ruling.
According to stipulations laid out as part of the state's three-phase plan, trends must show the virus' impact is stable or declining in key areas like hospitalizations, lab-confirmed cases, number of people reporting to medical professionals with COVID-like symptoms and the percentage of positive tests.
"We need to move in a more cautious way". Cooper says North Carolina will take a more modest approach into Phase Two. The interactive dashboard provides an overview on the metrics and capacities that the state is following to inform decisions to responsibly ease measures that slow the spread of the virus. "That's going to be our guiding star", explained Cooper. Buncombe County health officials say they will reschedule it. In its own Facebook post Monday morning, Asheville police said officers issued a warning on Sunday after witnessing people eating at the restaurant.
"NC restaurants look forward to welcoming you back into our dining rooms", association CEO Lynn Minges tweeted on Tuesday. "When we wear a face covering, wait six feet apart, and wash our hands often, we are showing we care for our loved ones and neighbors".
Tucker said she's a little anxious that some customers might not follow the new guidelines but her staff is prepared to talk to people who don't follow them. "I'd hate to be known as that guy". Hopefully we can move into Phase Three, but do it safely.
Dever criticized Cooper's order for exempting businesses and companies but not carving out an exception for churches.