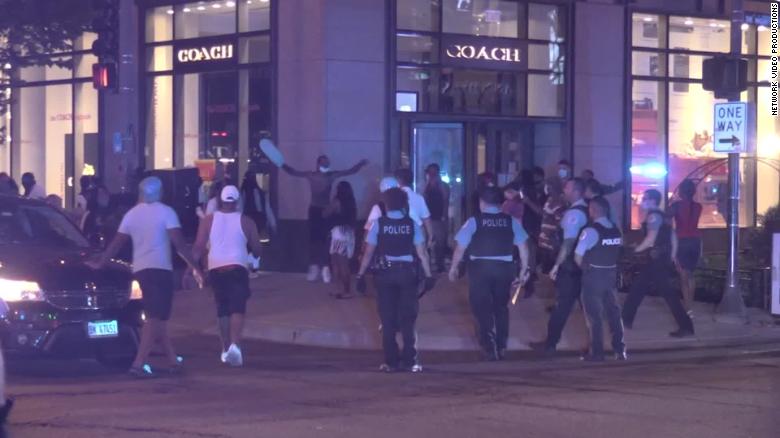 Video also shows damage to a Saks Fifth Avenue and Pandora store. Police chased the suspect who they say is 20-years-old, and police said the incident started after officers responded to a call of someone with a gun in an alley near the 5700 block of South Racine.
In response to the social media posts, police sent 400 officers into the area, where they were met by caravans of people arriving in cars, Brown said.
"Criminals need to be held accountable, there's no doubt it", Pritzker said.
"This was obviously very orchestrated", the Rev. Michael Pfleger, a prominent Roman Catholic priest and activist on the city's South Side, told WBBM-TV as cameras panned the downtown area. Illinois Department of Transportation trucks blocked access to ramps leading into the downtown area.
At the same news conference, Lightfoot addressed looters directly, telling them that police had collected a lot of surveillance video and other evidence that will be used to arrest and prosecute as many as possible.
It appears the unrest was born of an officer-involved shooting Sunday, but police brass has said there was a great deal of misinformation regarding the incident. "Another officer had his nose broken as he fought with a group of looters", Brown said.
Brown reported that in the last seven days, a total of nine officers have been shot in Chicago.
The city saw 31 shootings over the weekend, with three people dead as a result, according to Brown.
Mr Brown said police attempted to interview the suspect, who fled and fired shots at the officers.
"Not many of those cases were prosecuted to the full extent", he said. Brown said a heavy police presence is expected in the downtown area until further notice. In a subsequent press conference with reporters on Monday morning, Chicago Police Superintendent David Brown confirmed that the man who was shot by police was 20 years old.
"These individuals engaged in what can only be described as brazen and extensive criminal looting and destruction - and to be clear, this had nothing to do with legitimate, protected First Amendment expression". Soon after, the platform was flooded with posts encouraging looting and violence against police. "Is shooting a child then threatening/intimidating his loved ones not "criminal behavior?" You have no right, no right, to take and destroy the property of others. Does the right to be safe not extend to Black residents? Our businesses deserve to understand and enjoy safety and security of their property and in their employees. At one point early Monday, shots were fired at police and officers returned fire. This is not anywhere near acceptable. According to a police account of what happened next, a crowd of about 30 protesters gathered near where police held the line at the crime scene. Put your best people on this.
We can't allow.people to believe there is no accountability in our criminal justice system.
Evita Duffy is an intern at The Federalist and a junior at the University of Chicago where she studies American history.