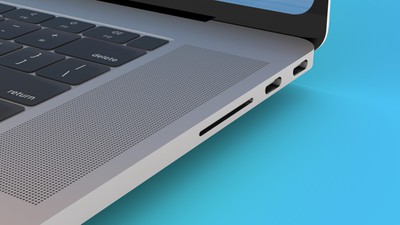 Apple is planning for the return of the SD card slot in the upcoming 14-inch and 16-inch MacBook Pros.
Apple is said to be working on a new version of the MacBook Air with a brand new physical case design that's both thinner and lighter than its current offering, which was updated with Apple's M1 chip late previous year, per a new Bloomberg report.
So what's next? According to Bloomberg's Mark Gurman, a thinner, lighter model with a next-gen processor with an Apple MagSafe magnetic charger - something missing from the current-gen model.
A new report says Apple's new MacBook Air with next-generation Apple Silicon could debut this year. Firstly, a new MacBook Air model is in the works. It will include Apple's MagSafe charging technology and a next-generation version of the company's in-house Mac processors. It is also expected that it could feature a mini-LED panel and a 2022 launch cycle. It was a footnote, however, in a larger piece that focused on some upcoming MacBook Pro laptops. The company is also allegedly considering building a 15 inch version of the MacBook Air. Past year the company refreshed the line with a new model powered by the company's M1 processor that delivers powerful performance, long battery life, and a fanless design. The company is planning to bring back an SD card slot for the next MacBook Pros so users can insert memory cards from digital cameras. The new report also reiterates the fact that Apple will remove the Touch Bar from the MacBook Pro lineup.
In the long term, Apple is also said to be developing Macs with support for cellular connectivity and Face ID biometric security. However, neither of the features will be coming anytime soon.