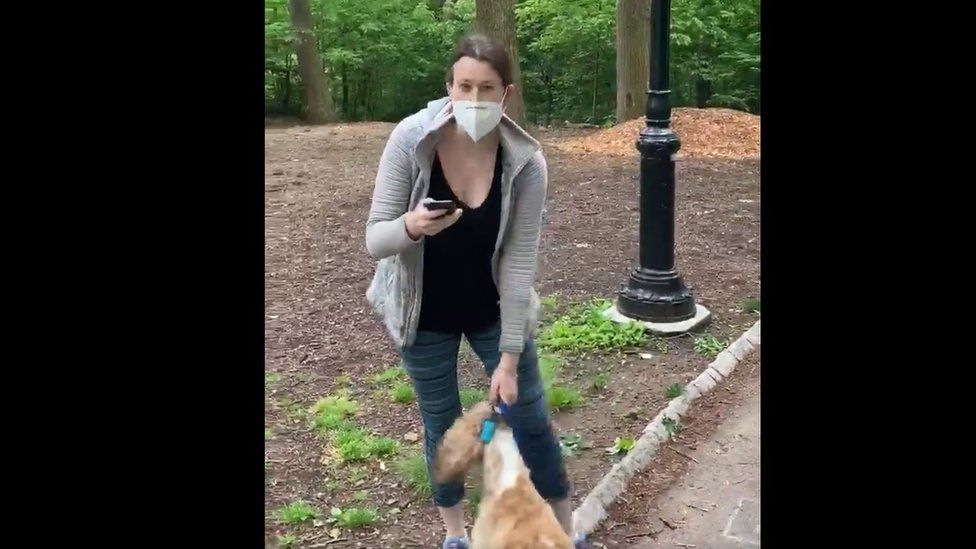 A white woman who called police on a black man bird watching in New York's Central Park has had the criminal case against her dismissed.
On May 25 in the Ramble section of Central Park, a wooded area frequented by birdwatchers, Christian Cooper, who is not related, insisted that she put her dog on a leash - a request Amy Cooper refused.
As the man continued recording, she said that she would be calling the police and "tell them there's an African-American man threatening my life".
Judge Anne Swern, presiding over the matter by video because of the coronavirus pandemic, agreed to dismiss the charge of filing a false police report and said she would seal Cooper's case file, in accordance with state law.
In a statement, Assistant DA Joan Illuzzi said Cooper, who is white, had completed education and therapy classes on racial equity, CNN reported.
Illuzzi says Cooper entered the program and completed 5 sessions, and her therapist reported it was a "moving experience" for Cooper and she learned a lot.
Christian Cooper, who is prominent in the NY bird watching community, posted the encounter on Facebook and said it came after he had asked her to put her dog on a lead in an area where it was required. Illuzzi said he declined to participate in the matter.
Cooper, who was sacked from her job at the investment firm Franklin Templeton, also issued an apology through a public relations firm past year, explaining that she had misjudged Christian Cooper's intentions that day at the park.
When police called Ms Cooper back in an attempt to locate her in the park, she claimed the man, Mr Cooper, had "tried to assault her", Ms Illuzzi said.
"We thank them for their integrity, and agree with the outcome", Mr Barnes said.
She was offered the programme as part of a restorative justice initiative in part because of her lack of criminal background, the prosecutor said. Others rushed to the wrong conclusion based on inadequate investigation & they may yet face legal consequences.
The latest iteration of Karen popped up in New York City's Central Park as a white woman called the police on a black man after being asked to put a leash on her dog. "This is how the system was created to function - to protect the privileged from accountability".
A video of Ms Cooper went viral in 2020 and sparked outrage across the US. "I'm going to tell them there's an African American man threatening my life".
"Please call the cops", said Christian Cooper. Details of the offer were not made public until Tuesday.