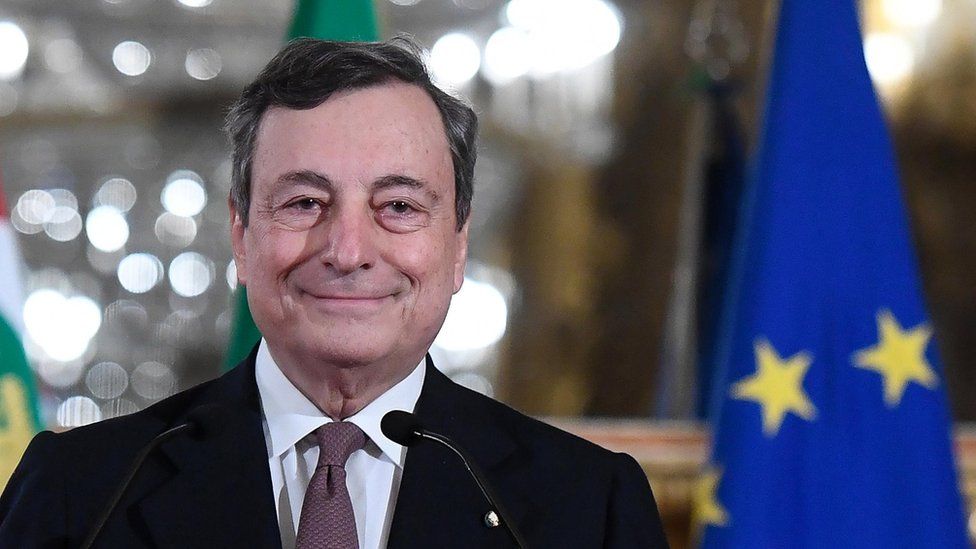 Members of Italy's populist Movimento 5 Stelle (M5S) have voted nearly 60 per cent in favour of premier-designate Mario Draghi, paving the way for the formation of a broad government of national unity.
Confidence votes in both houses enabling him to take office will be a formality.
Italy has been without a fully functioning government for nearly a month since former prime minister Matteo Renzi withdrew his Italia Viva party from Conte's coalition, which also included the M5S and centre-left Democratic Party (PD).
The movement's members held similar online votes before forming coalitions first with the rightist League in 2018 and then with the centre-left Democratic Party in 2019.
President Sergio Mattarella asked Draghi to be prime minister after party wrangling brought down the previous administration, and set him the task of tackling the coronavirus health crisis and economic meltdown pummeling the country.
Draghi has spent the last nine days assembling a government of national unity to manage the deadly pandemic that hit Italy nearly exactly one year ago, triggering a deep recession.
After receiving the support of the largest group in parliament, the Five Star Movement, Mr Draghi now has backing across the broad political spectrum.
M5S founder Beppe Grillo held up the vote of members until Draghi agreed to have a Green "Super-Minister" in charge of orchestrating the ecological transformation of the economy in his new cabinet.
The new government is comprised of fifteen men and eight women, among them nine faces from Conte's 21-strong Cabinet.
The vote to back the former European Central Bank boss, and "choose the European path" as Di Maio put it, represents a major turn-around for the once fiercely anti-establishment movement.
Politicians he met this week said he told them he is opposed to fiscal austerity, despite soaring national debt levels, given the importance of protecting social cohesion.
Another priority is speeding up Italy's coronavirus vaccination programme, which made a promising start in December but has since slowed, against a backdrop of rising concern about the spread of new variants. Italy has registered nearly 93,000 deaths linked to COVID-19 since its outbreak emerged in February a year ago, the second-highest toll in Europe.
In one of the last acts of his government Friday, Conte's cabinet extended a ban on travelling between regions for another week, and tightened curbs in four regions.
The Draghi-led government includes fierce political rivals, who at least for the moment - and with the promise of 200 billion euros in European Union recovery funds - are agreeing to put aside their differences.