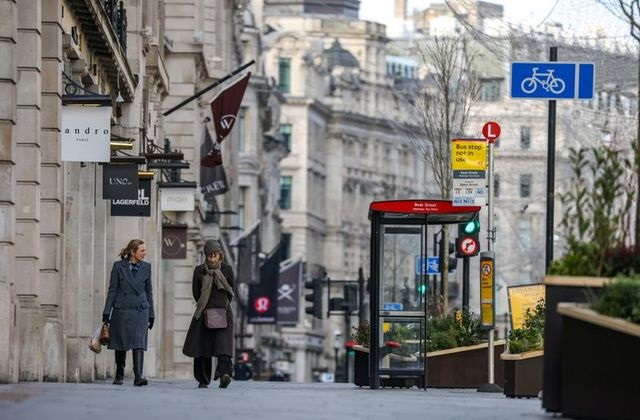 The news comes as Prime Minister Boris Johnson meets with senior ministers Sunday to finalise a "road map" out of that national lockdown that is due to be announced on Monday.
Everyone in the over 65 age group should receive their first jab by early March, and the remainder of those in the priority groups drawn up the Joint Committee of Vaccination and Immunisation (JCVI) will be vaccinated by early May. But UK Health Secretary Matt Hancock, who announced the new targets, said "we now think that we have the supplies" to speed up the vaccination campaign.
The British government declared today that every adult in the country should get a first coronavirus vaccine shot by July 31, at least a month earlier than its previous target, as it prepared to set out a "cautious" plan to ease the UK's lockdown.
He also told Sky there is evidence the vaccines could reduce transmission by two-thirds, which could be a factor in deciding whether to vaccinate children against Covid-19.
On Monday afternoon, the prime minister will set out his roadmap for lifting lockdown restrictions, including the reopening of schools for all pupils.
He added that ministers also wanted "to give that indicative sense and a direction so that people can start to begin to plan their lives in a way that they have all put on hold for, well, for the past year and certainly the last month or so when we have been in this second national lockdown".
Thousands of people living in an area of Leeds are being urged to take a coronavirus test from Monday 22 February after two potential cases of the South African variant were detected. That's based on results from 221,157 tests - or a 2.99% positive rate.
"We hit it hard and send in enhanced contact-tracing and go door-to-door".
"If we are going to say we are so anxious about a future variant that might not be susceptible to the vaccine, that's a recipe for never unlocking our economy and our society, and I don't think that's really an acceptable proposition". We also absolutely will be vigilant to the data on the way.
The number of new confirmed cases, hospitalisation and deaths are all declining but remain high, and Johnson says his reopening road map would follow "data, not dates".
Edmunds said there is added uncertainty because of new virus variants, including one identified in South Africa that may be more resistant to current vaccines.
The Good Law Project took legal action against the Department of Health and Social Care (DHSC) for its "wholesale failure" to disclose details of contracts agreed during the Covid-19 pandemic.
"The UK government are confident they will have the supplies and that will have the desired knock-on effect for Scotland", their health spokesman Donald Cameron said.
He told BBC One's The Andrew Marr Show that, while vaccinating all adults by the end of July will make a "huge difference", easing restrictions rapidly would put the NHS under pressure again.
The health secretary said there had been a total of 300 cases of the South Africa variant in the United Kingdom, but that most of these were "historic cases from over a month ago". One is that it absolutely must be safe, specifically for children, so that is being now investigated.