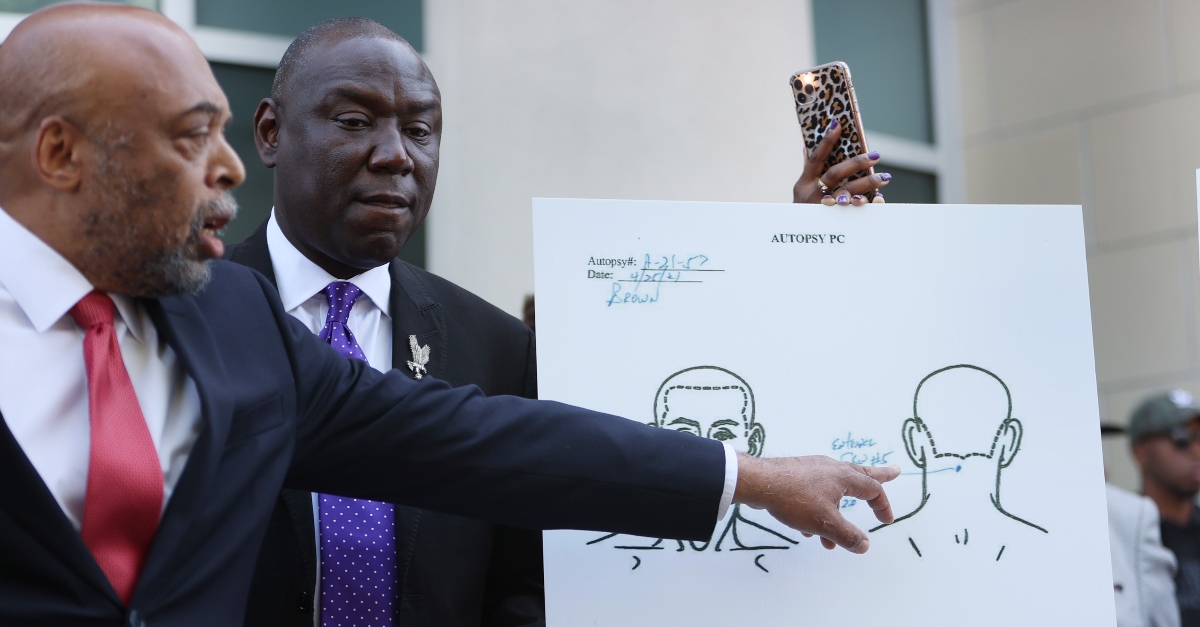 Glenda Brown Thomas displays a photo of her nephew, Andrew Brown Jr., on her cellphone at her home last week in Elizabeth City, N.C. Brown was shot and killed by sheriff's deputies attempting to execute a warrant.
Following six nights of protests over Brown's death, city officials on Tuesday imposed a dusk-to-dawn curfew on Elizabeth City, about half of whose 18,000 residents are Black.
The independent autopsy results and Federal Bureau of Investigation statement came one day after Brown's family was allowed to see 20 seconds of body camera footage from last week's deadly encounter between deputies and Brown.
A judge refused Wednesday to release body camera video showing North Carolina deputies shooting and killing a Black man, ruling that making the video public at this stage could jeopardize the investigation into Andrew Brown Jr.'s death.
Brown's son Khalil Ferebee saw 20 seconds of bodycam footage Monday.
When asked whether Brown was shot in the back, attorney Harry Daniels said, "Yes, back of the head". A first responder was recorded on 911 dispatch saying Brown was shot in the back. Brown does not appear in the video, which glitches when the shooting begins.
Chantel Cherry-Lassiter, one of the family's attorneys who was allowed to watch the video, said Brown was sitting in his vehicle with his hands on the steering wheel while he was being shot at. She said she counted as many as eight deputies in the video, some wearing tactical uniforms and some in plainclothes. Womble said the video shows that Brown's auto made "contact" with law enforcement twice before shots could be heard on the video. "Let's be clear: This was an execution".
An official autopsy has yet to be released, though the death certificate had indicated Mr Brown died of a gunshot to the head.
"They're trying to hide something", attorney Benjamin Crump said.
"You don't have have to be a Democrat or a Republican to understand that injustice was done", attorney Bakari Sellers told the protesters.
"Yesterday, I said he was executed".
Mr Cox did not respond to a request for comment.
None of the deputies were injured, according to previous statements by the Pasquotank County sheriff, Tommy Wooten II.
"This tragic incident was quick and over in less than 30 seconds, and body cameras are shaky and sometimes hard to decipher. They only tell part of the story", Wooten said in a video posted on social media on Monday along with Fogg.
According to the search warrant obtained by ABC News, sheriff's investigators wanted to search Brown's home for crack cocaine, methamphetamine and heroin. Crump argued that authorities were trying to release negative information about Brown while shielding themselves by holding back the video.
Wooten has said his office is seeking court approval necessary to release the video.
The new footage shows a team of deputies riding a sheriff's department truck on its way to arrest Brown on drug charges.
Two arrest warrants released last week charged him with possession with intent to sell and deliver 3 grams of each of the drugs. In North Carolina, body-worn police footage can only be released to the public with a court order. A petition for the video's release filed by a coalition of media outlets, including The Post, is scheduled to be heard in county court Wednesday morning.
Attorneys for the Brown family said they were "deeply disappointed" by the judge's decision not to immediately make the footage viewable by the public. The incident sparked a wave of protests in the area causing Elizabeth City Mayor, Bettie Parker, to declare a state of emergency.
One of the Brown family lawyers, Chantel Cherry-Lassiter, who viewed the 20-second video, said Monday that shots were heard from the instant the clip started with Brown's vehicle in his driveway and his hands on the steering wheel.