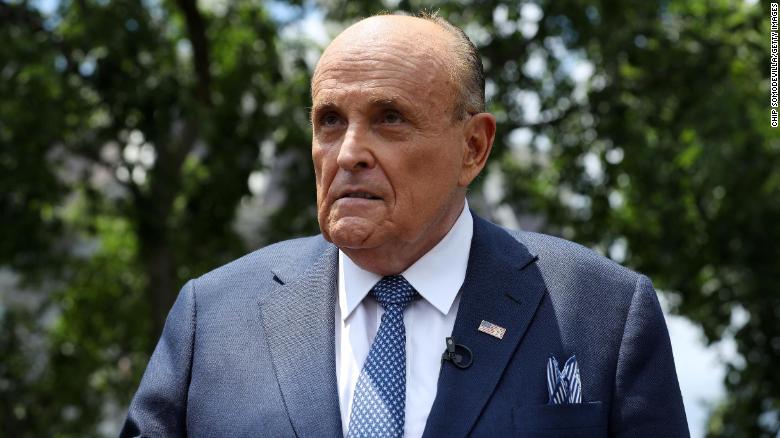 The New York Times reports that electronic devices were seized in the raid, which the Times adds is a look into whether Giuliani illegally lobbied former President Donald Trump on behalf of officials and oligarchs in Ukraine.
Federal prosecutors in Manhattan have been investigating Giuliani's dealings in Ukraine.
A reporter does a live stand up outside the NY building where Rudy Giuliani lives.
Details of the search were not immediately available, but it came as the Justice Department continued its investigation into the former New York City mayor and staunch Trump ally.
No charges had been filed against the 76-year-old former federal prosecutor as of Wednesday afternoon. Giuliani had previously called the investigation is "pure political persecution".
A Justice Department spokesperson did not immediately respond to a request for comment.
Both the Federal Bureau of Investigation and the U.S. Attorney's Office for the Southern District of NY have reportedly not commented to the media and have yet to issue a news release about the raid.
U.S. President Donald Trump's personal lawyer Rudy Giuliani gestures as he speaks as Trump supporters gather by the White House ahead of his speech to contest the certification by the U.S. Congress of the results of the 2020 U.S. presidential election in Washington, U.S, January 6, 2021. Giuliani ran unsuccessfully for the 2008 Republican presidential nomination. The former president himself no longer enjoys the legal protections the Oval Office once provided him - though there is no indication Trump is eyed in this probe.
"In addition to this stark admission, you stated more recently that you are in possession of evidence - in the form of text messages, phone records, and other communications - indicating that you were not acting alone and that other Trump Administration officials may have been involved in this scheme", a letter from the committee chairs to Giuliani said. Law enforcement officials told media that the investigation at least partly involves his Ukraine dealings.
Federal prosecutors in Manhattan had pushed past year for a search warrant for records, including some of Mr Giuliani's communications, but officials in the Trump-era Justice Department would not sign off on the request, according to multiple people familiar with the investigation who insisted on anonymity to speak about an ongoing investigation. Giuliani's alleged lobbying efforts were a primary focus of the first impeachment case against Trump.
"He was someone that tried to pass information to me".
In recent years, Giuliani monetized his reputation for security and policing into lucrative side ventures.
The people could not discuss the investigation publicly and spoke to AP on condition of anonymity.
The Justice Department was widely expected to revisit the issue once Attorney-General Merrick Garland assumed office. Garland was confirmed last month and U.S. Deputy Attorney General Lisa Monaco was confirmed to her position and sworn in last week.