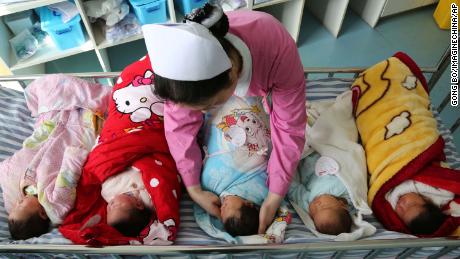 China has been gradually reforming its stringent birth policy that limited most families for many years to only having a single child, with a second child allowed since 2016.
China's fertility rate stands at 1.3 - below the level needed to maintain a stable population, the National Bureau of Statistics revealed.
"Allowing every couple to have three children and implementing related support policies will help improve the population's structure", the Xinhua News Agency reported, citing a Politburo meeting held Monday.
However, it is unclear when the move would take effect.
The sharp deterioration in demographics will fuel pressure on Beijing to ramp up incentives to couples to have more children - incentives that have thus far failed to offset the impact of career choices and cost-of-living challenges that couples say have deterred them from starting extended families. As evinced from its policies, the country is looking to reverse the declining birthrate.
The annual average population growth of 0.53% in the past decade was the slowest since the 1950s, according to recent census data released.
At the meeting, chaired by Chinese President Xi Jinping who is also the general secretary of the CPC, reports on major policy measures to actively address the aging of the population during the 14th Five-Year Plan period (2021-2025) were reviewed.
Also on Monday, the politburo said it would phase-in delays in the country's retirement ages but did not provide any details.
It was only formally phased out again in 2015 when the government changed their policy to allow families to have two children.
At the same time, China's population is aging rapidly, endangering its economic growth.
The share of working-age people 15 to 59 in the population fell to 63.3 per cent previous year from 70.1 per cent a decade earlier, according to the census data. There were only 12 million new babies born in China previous year, the lowest number since 1961. "It is estimated that China's total population will remain at more than 1.4 billion in the near future", Ning said.