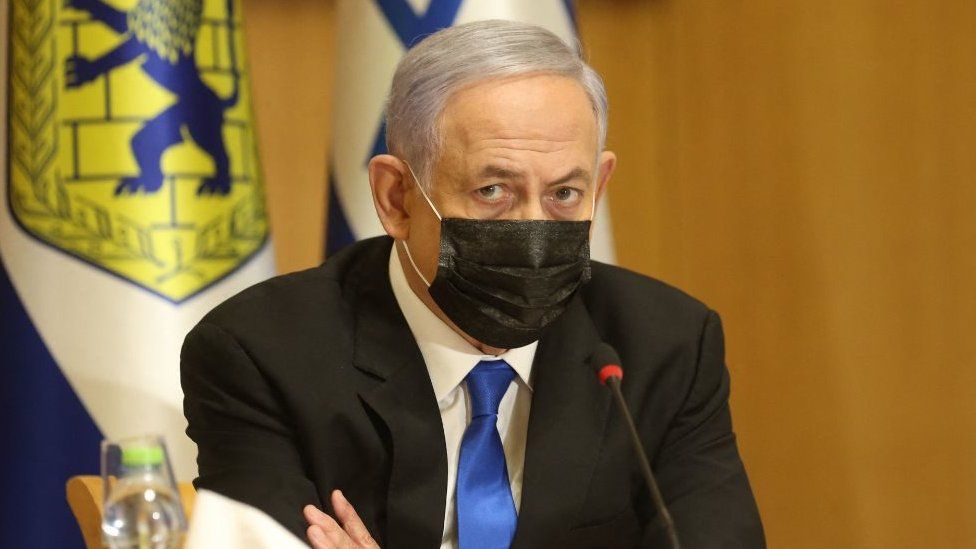 In a statement, the Ministry vigorously deplored "the Israeli attack against the Palestinians in occupied Jerusalem, where settlers are working to displace the residents of the Sheikh Jarrah neighborhood, a behavior that does not differ from the practices of ethnic cleansing".
The United Nations called on Israel to halt all evictions in the neighborhood.
Israel's Supreme Court on Sunday postponed Monday's hearing on the planned evictions, saying a new date will be proposed within 30 days.
Police fired stun grenades and "skunk" water cannons spraying foul-smelling water at Palestinians outside the Old City's Damascus Gate and scuffled with youths in the Sheikh Jarrah neighbourhood, amid other isolated flare ups across the area.
An Israeli policeman holds a weapon during clashes with Palestinians on Laylat al Qadr during the holy month of Ramadan, at Jerusalem's Old City, May 8, 2021.
In a statement, the Minister of State for Foreign Affairs Khalifa al-Marar stressed "the need for Israeli authorities to assume their responsibilities - in line with worldwide law - to provide necessary protection to Palestinian civilians' right to practice their religion, and to prevent practices that violate the sanctity of the Holy Al-Aqsa Mosque".
Condemning Israel's "heinous attacks on Jerusalemites in the surroundings of Al-Aqsa Mosque", Foreign Ministry spokesman Deifallah al-Fayez urged Israeli authorities to leave worshippers to perform night-time prayers safely and freely during the holy month of Ramadan, according to a ministry statement.
Monday also marks Jerusalem Day, when tens of thousands of Jewish nationalists are expected to march through the Old City of Jerusalem to mark 54 years since its capture during the Six Day War.
But there were signs the violence was beginning to spread.
Palestinians want East Jerusalem as the capital of a future state in the occupied West Bank and Gaza.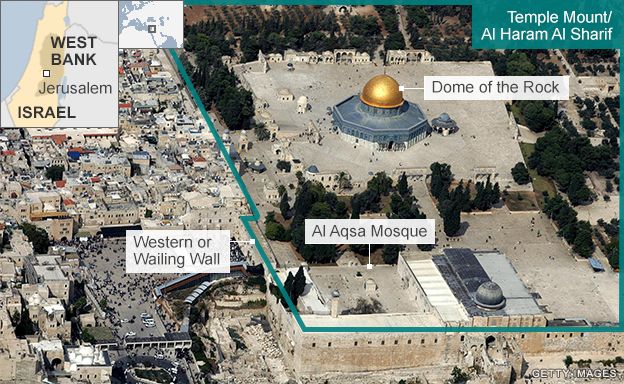 Also on Saturday night, hundreds of Palestinians rioted along the Gaza border fence with Israel, burning tires and throwing explosives at Israeli troops before being dispersed by tear gas.
Earlier in the day, Israel carried out an airstrike on a Hamas post in response to another rocket attack.
"Such actions are a violation of worldwide law and impede the achievement of a peaceful settlement based on the creation of two states - Palestine and Israel".
At the Vatican, Pope Francis said he was following the events in Jerusalem with worry and called for an end to the clashes.
Police Commissioner Yaakov Shabtai said extra officers were being deployed in Jerusalem on Saturday to "enable freedom of worship and maintain order and security".
"Violence only generates violence", he told the public gathered at St. Peter's Square. The court was set to announce its ruling on Monday.
Palestinians and worldwide rights groups portray the planned evictions as a part of a campaign by Israel to drive Palestinians from traditionally Arab neighborhoods, especially in the heart of Jerusalem.
The ministry also urged Israel to stop practice any actions that violate the sanctity of Al Aqsa, expressing its rejection of all Israeli attempts to alter the Arab, Islamic, and Christian identity of Al Quds and obliterate its historical and legal status.
The flare-up in hostilities comes at a crucial point in Israel's political crisis after longtime leader Netanyahu failed to form a governing coalition.
Three times since the beginning of April, US officials reached out to the Prime Minister's Office to express their opposition to Israeli steps to build beyond the Green Line, Channel 12 reported Thursday.