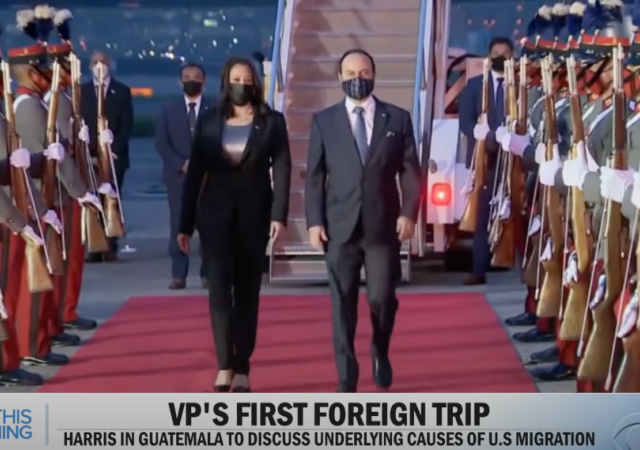 Following bilateral talks with the Guatemalan president Monday, Harris told members of the press that she was "proud to report agreements President Giammattei and I have made today will strengthen the security and prosperity for both people of Guatemala and the people of the United States".
Vice President Kamala Harris outlined new efforts to fight corruption and human trafficking in Guatemala on Monday as part of the Biden administration's broader effort to address the root causes of migration from Central America.
Washington has criticized the removal of a senior judge from Guatemala's top court, in what Giammattei has argued was a legitimate process.
However, disagreement has emerged over the best way to tackle corruption, with the United States giving recognition to anti-graft fighters the conservative government and its allies see as politically biased.
Most Guatemalan migrants leave because of poverty, he said, and come from a few rural municipalities. "Do not come", she said.
But she also took flak from fellow Democrats like U.S. Representative Alexandria Ocasio-Cortez, who said on Twitter she was disappointed by Harris's message to migrants. There are legal methods by which migration can and should occur. She confirmed that the United States would supply half a million COVID-19 doses to Guatemala.
The U.S. government has been pressing the "Northern Triangle" - El Salvador, Guatemala and Honduras - to do more to tackle corruption in order to improve social conditions for its people and make them less eager to emigrate.
More recently, the U.S. -financed, U.N. Commission Against Impunity in Guatemala helped bring down democratically elected conservative President Otto Perez Molina, a former general, who resigned after massive protests triggered by an investigation into corruption in his government.
Harris talked about the creation of a task force to crack down on smuggling and human trafficking, and said, "The underlying reason for so much of what we are seeing in terms of this level and type of corruption is about profit".
The group will complement the efforts to build cases against corrupt actors in the region, the statement said.
Harris will also meet civil society leaders and entrepreneurs in Guatemala and then go to Mexico.
"I am against her stepping over the sovereignty of the Guatemalan...most of all to bring an anti-corruption agenda, where they protect good but corrupt people, where she has met with convicts in the United States", stated Jorge Lemus, former captain of infantry for the Guatemalan Army.