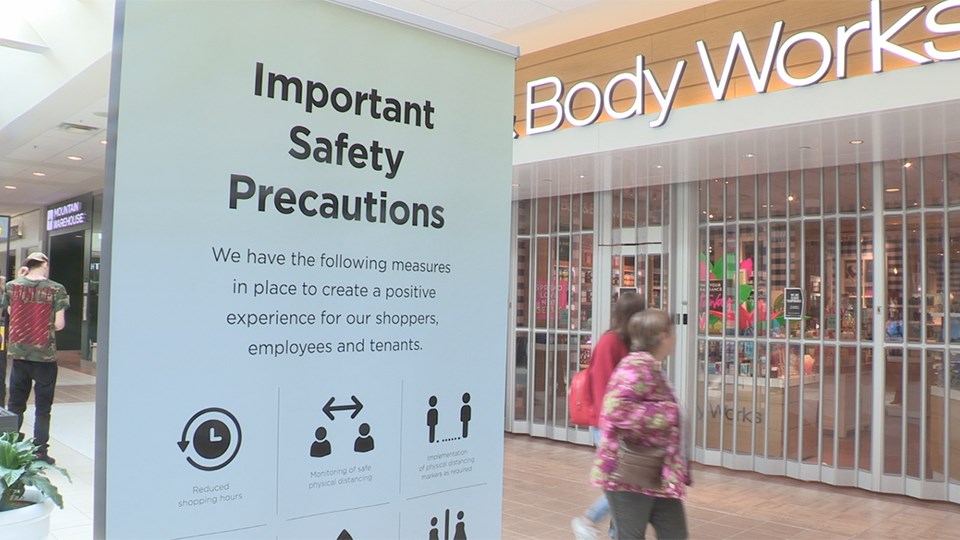 In order to safely enter Step One of the Roadmap to Reopen, Ontario needed to have vaccinated 60 per cent of adults with at least one dose for two weeks or longer, ensuring the first dose offers a strong level of protection against COVID-19.
The province announced the move on Monday, saying health indicators have improved enough to begin lifting some pandemic restrictions.
While step one of the province's reopening plan will allow many retail stores that have been closed since early April to reopen it will continue to keep malls shuttered with only stores featuring street-front entrances permitted to open.
That means Ontario is allowing outdoor gatherings for up to 10 people, outdoor dining for up to 4 people per table at restaurants, essential retail capacity can operate at 25% capacity, non-essential retail at 15%, outdoor religious services can be held, and outdoor sports, fitness and personal training up to 10 people.
Day camps, campsites and campgrounds are also allowed to reopen, and outdoor religious ceremonies can take place, with physical distancing measures in place. The province expects these trends to continue over the coming days before entering step one on Friday.
Ontarians 70 and older and those who received their first mRNA vaccine dose on or before April 18 became eligible to book their second doses on Monday.
The province has said that it will not enter step two of its reopening plan until at least 20 per cent of adults have received at least two doses of COVID-19 vaccine "and there are continued improvements in other key public health and health system indicators". Experts and critics have called for a new strategy that targets hot spots for the Delta variant, believed to be more infectious and causing more severe illness, for second doses.
Hospiltizations have also steadily declined and as of today there are only 497 COVID-19 patients in the ICU, down almost 20 per cent from this time last week.
"The numbers are continuing to show steady improvement", Yaffe said. Those gatherings will need to abide by certain public-health regulations.
"Operating at 15 per cent capacity will not immediately solve the cash flow challenges most small businesses face".
Doris Grinspun, the CEO of the Registered Nurses' Association of Ontario, said she would have preferred to see lower daily infections before reopening, but expressed hope the province could eliminate the virus by proceeding cautiously with its plan and ramping up vaccinations.
At a press conference on Monday, Dr. Barbara Yaffe, Ontario's associate chief medical officer of health, stressed that with 525 new COVID-19 cases reported on Monday, that is the lowest daily case count since september 27, 2020.