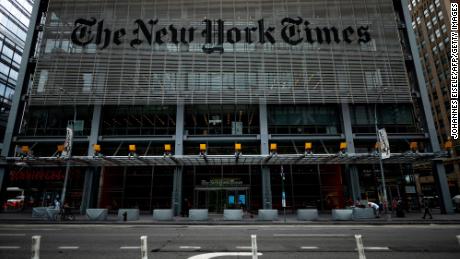 Justice Department spokesman Anthony Coley said the department notified the four reporters on Wednesday that it had obtained their phone call records past year and that it had sought to obtain non-content email records as part of 'a criminal investigation into the unauthorized disclosure of classified information'.
The Justice Department started investigating Comey after former President Donald Trump fired him, first focusing on whether his leaked notes on Trump's conversations with him about Russian Federation were illegal, then shifting to whether Comey leaked the existence of the classified 2016 memo.
The Department of Justice informed the Times that law enforcement officials had seized 2017 phone records from reporters Matt Apuzzo, Adam Goldman, Eric Lichtblau and Michael S. Schmidt.
The Justice Department did not disclose which article it was investigating, according to the newspaper.
The Times reported on Wednesday that the Trump administration secretly seized phone records of four reporters spanning almost four months in 2017 as part of a leak investigation.
The practice of using court orders to obtain records has been used by multiple administrations, both Republican and Democrat, as they sought to root out the sources of leaked classified information to the media.
"Seizing the phone records of journalists profoundly undermines press freedom", Dean Baquet, the executive editor of the New York Times, said in a statement.
The Justice Department says it has now concluded notifying the media organizations whose phone records were accessed.
The records, which were from a four-month period in 2017, were seized in 2020 during an investigation into a leak, The Times reported.
"CNN strongly condemns the secret collection of any aspect of a journalist's correspondence, which is clearly protected by the First Amendment", CNN president Jeff Zucker said in a statement.
News of the seized phone records marks just the latest disclosure about the Trump administration's heavy-handed tactics toward leak investigations involving journalists.
In addition to the phone records seizures disclosed over the past month regarding the reporters, the department won guilty pleas from a former government contractor who mailed a classified report to a news organization and a former Senate committee aide who admitted lying to the Federal Bureau of Investigation about his contacts with a reporter. The department said the reporters are neither subjects nor targets of the investigation, but did not reveal which leak was under investigation. "The Department of Justice should immediately make clear its reasons for this intrusion into the activities of reporters doing their jobs, an activity protected under the First Amendment".
After blowback, Holder announced a revised set of guidelines for leak investigations, including requiring the authorization of the highest levels of the department before subpoenas for news media records could be issued.